Drain cleaners (aka drain openers) are chemical substances that are poured into a clogged drain for the sole purpose of clearing out any debris and unclogging it.  Drain cleaners are formulated to dissolve organic waste, food particles, hair and other common substances that clog drains.  Drain cleaners can be in the form of liquid, pellets or powder.
Here are some important questions you should ask about drain cleaners:
What exactly is present in that drain cleaning liquid you bought? Yes, they are chemicals but are all type of drain openers are made out of chemicals? What kinds of chemicals are commonly used in these solutions? What precautions should I take before using drain cleaner liquid? Keep reading…
What Types of Drain Cleaners Are There?
Before discussing the ingredients of a drain unclogging solution, we need to learn about the different types.  Drain cleaners are classified based on the main ingredients used.
Most companies refuse to specify their exact formula and chemical additives that enhance the dissolving action. So we will focus on the main ingredients present in each type of drain cleaner that you can find at the store or make at home.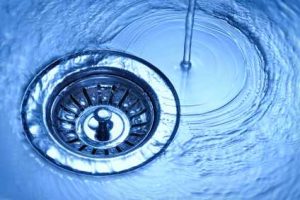 Acidic drain cleaners are usually found in liquid form. With these types of cleaning solutions, the main ingredient is generally sulfuric acid (H2SO4), a highly toxic chemical that dissolves organic materials.
Sulfuric Acid (H2SO4)
The most common chemical used in liquid drain cleaner is sulfuric acid. Sulfuric acid is a byproduct of iron ore purification process. There are other sources of this acid, too.
The main reason for adding sulfuric acid to a drain cleaning solution is the strong dissolving action when it contacts organic material such as food, hair, grease, leaves and other debris.
Sulfuric acid reacts with organic materials and certain types of metals.
It easily unclogs organic debris in a few seconds.
Sulfuric acid can cause life-threatening bodily harm (serious burns to the skin, eyes and pulmonary system, and poisoning) if not handled properly
Sulfuric acid-based drain cleaners cannot be used when the drain pipes are made of certain metals.
Sulfuric acid corrodes certain metals.  It can damage iron, chrome, stainless and galvanized metal pipes.  It should be used sparingly or not at all with these metal pipes.
PVC pipe does not react with sulfuric acid.  However, it can be damaged from heat released by the acid's interaction with organic clog material.
Always pour the drain cleaner in slowly and follow the label instructions.
IMPORTANT: Do NOT simply pour the entire bottle down the drain.
Hydrochloric Acid (2HCl)
Not all acidic drain openers are made with sulfuric acid. The other common main ingredient in acidic drain openers is hydrochloric acid (aka muriatic acid).  
Like sulfuric acid, hydrochloric acid will corrode metal pipes.  It also corrodes porcelain, so if you have a porcelain sink you should not use liquid drain cleaners with this ingredient.
Additives in Acidic Drain Cleaners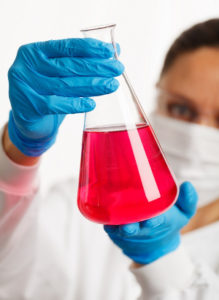 The drain opener is not completely sulfuric acid or any other chemical. Many additives are added to make the acid effective for unclogging and to dilute the dangerous effects of pure acid.
The choice of additive ingredients varies from one manufacturer to other. Since these additives make a difference in their brand, drain cleaner companies generally refuse to publish their formulas.
Caustic drain openers are usually made out of an alkaline (basic) substance such as sodium hypochloride, sodium hydroxide, potassium hydroxide or sodium bicarbonate.
Sodium Hypochloride

The most common drain cleaner additive is sodium hypochloride. This is made by mixing sodium hydroxide which is also called as caustic soda with chlorine.  Thus, this drain opener gets its name; caustic drain opener.
Other chemicals are added to the cleaning solution to reduce foaming, reduce surface tension and for better mixing of the solution components.
Other choices of main alkali ingredients in caustic drain openers are sodium hydroxide (soda lye), sodium hypochlorite (bleach), potassium hydroxide (potash lye) and others.  This is not an exclusive list.
Additives In Caustic Drain Cleaners
The typical additives in caustic drain cleaners include wetting agents and penetrating agents.  These chemicals act as a catalyst or enhancer.  Companies use two types of wetting agents, namely anionic and ionic.
Anionic wetting agents include sodium lauryl sulfate, alkyl aryl sulfonates, Aeroso OT and others.
Ionic wetting agents include polyoxyethylene tertiary dodecyl thioether, polyoxyethylene esters of oil of tall, resin acid, coconut alkylolamide, esters of fatty acids and others.
These agents are added in very small amounts to the caustic drain cleaners for immediate and effective action.
Solid Caustic Drain Cleaners
Solid drain cleaners can be found in solid pellet form.  Acidic drain openers cannot be made in solid form — only caustic drain cleaners can.  These use the same main ingredients as caustic drain openers.
Sodium hydroxide or potassium hydroxide is added in granular form.  This allows the solution to be pressed into solid pellets or pucks.
Aluminum turning is another important additive.  Aluminum turning is patented and is available only in certain brands.
Biological Drain Cleaners
The chemicals used in acidic and caustic drain cleaners can lead to health problems and environmental damages. There are people who worry about these negative effects.  Many people are now shifting towards other types of drain cleaners that are less harmful.
Biological or Enzyme Drain Cleaners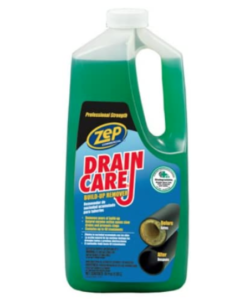 Biological drain cleaners are a relatively new form of drain opener that consist of enzymes that dissolve organic waste.  These are non-hazardous and non-chemical drain cleaners.
These contain enzymes and bacterial cultures that react to organic residue.  When the enzymes are mixed with water, the bacteria start to multiply. They feed on the waste for energy thereby consuming it and unclogging the drain in the process. The bacteria can multiply 2-3 times and expand to twice their size within 30 minutes.
Other ingredients in biological drain openers are wetting agents, preservatives and others. This type of drain opener is also called as enzyme biological drain openers.
You can also make your own drain cleaner solution. A homemade drain cleaner will generally contain baking soda and vinegar. Mixing these two elements creates a foaming reaction which helps penetrate and unclog a drain.
There are other homemade drain cleaners that use cream of tartar, salt or Borax. Not all homemade drain cleaning solutions are completely organic.
Wrapping Up
This is not an exclusive list. There are numerous brands of liquid drain cleaners which use a variety of ingredients. In general, an acidic drain opener will have an acid main ingredient; caustic one with have a base as the main ingredient.  Biological drain openers use enzymes and bacteria, and so on.  The types, additives and other elements vary from one brand to another.