A drain tends to get clogged when debris blocks the path for water and other waste. Any drain opener solution can be used to dissolve the debris and remove the clog. There are different kinds of drain opener solutions. They are basically divided into two types based on the pH of the main ingredient in the solution. Both acids and alkali elements can be used for opening a drain.
What Is an Alkali?
Any element with pH greater than 7 is called an alkaline or alkali element.  These are often referred to as "basic" or "base" elements.  Below are some common alkalis and their pH levels.
| Alkali | Formula | Common Names | pH (10 mM) |
| --- | --- | --- | --- |
| Sodium Hydroxide | NaOH | caustic soda, soda lye, lye | 11.9 |
| Potassium Hydroxide | KOH | caustic potash, potash lye, lye | 11.9 |
| Calcium Hydroxide | Ca(OH)2 | slaked lime, hydrated lime, caustic lime, builders' lime, slack lime, cal, pickling lime | 12.2 |
| Magnesium Hydroxide | Mg(OH)2 | milk of magnesia | 11.9 |
| Sodium Metasilicate | Na2SiO3 | | 11.9 |
| Sodium Carbonate | Na2CO3 | soda ash | 10.9 |
| Ammonium Hydroxide | NH4OH | ammonia water, ammonia solution, ammoniacal liquor, ammonia liquor, aqua ammonia, aqueous ammonia | 10.6 |
| Sodium Hypochlorite | NaClO | bleach | 11.0 |
| Sodium Bicarbonate | NaHCO3 | baking soda | 8.4 |
According to common belief, if a drain opener is not acidic, it has to be alkaline.  However, there are various forms of drain openers and it's not true that a drain opener must be an alkali if is not acidic.
There are numerous types of alkali compounds that are used for drain opening.  We discuss these ingredients below.
Types of Alkali Drain Openers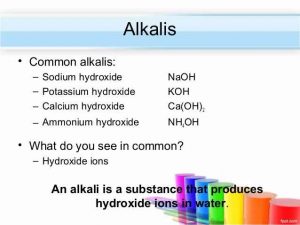 Alkali drain openers can be broadly classified into two types.
The first type is strong alkali drain opener and the second is weak alkali drain opener.
Strong alkali drain openers are for industrial or residential use.  The alkali used in such drain openers is highly concentrated.  You must use these solutions with care because they are caustic, and will easily burn your skin, eyes and lungs.
Weak alkali drain openers are for residential use.  The have less-concentrated and/or weaker alkali compounds and thus, are not a threat for personal safety.
Strong Alkali Drain Openers
Sodium Hydroxide (NaOH)
This type of drain opener is commonly called caustic soda drain opener. 
Caustic soda is a mixture of sodium, oxygen and hydrogen.
Both liquid and solid forms of strong alkali drain openers have sodium hydroxide. Lye is a common name used for sodium hydroxide or potassium hydroxide.
In some brands of strong alkali drain opener, you may find potassium hydroxide (KOH) as the main ingredient.  But sodium hydroxide is the most common one for unclogging drains.
Why is Sodium Hydroxide So Common?
There are stronger alkali substances in the periodic table, so why is sodium hydroxide used in most of drain openers?  It is a cheaper alkali than most others but that cannot be the only reason for its popularity. Below is the list of advantages of using sodium hydroxide in a drain opener:
It can be handled with ease when compared to other strong bases.
Strong sodium hydroxide dissolves human tissues like hair within a few minutes.
It also helps kill fungi, bacteria and other unwanted micro-organisms.
It can easily dissolve grease, oil and other protein-based deposits.
It can dissolve precipitated proteins.
Hard clogs made of organic waste can be digested with ease.
It leaves a coffee-like residual solid that can be crushed with your finger tips. Fast flowing water is enough to wash this residual substance out of your drain.
Sodium Hypochlorite (NaClO)
Some brands of alkali drain opener include sodium hypochlorite, commonly known as bleach.
Bleach is a mixture of sodium, chlorine and oxygen.
Bleach can be corrosive to pipes and caustic to humans and animals.  It must be used with care to avoid skin, eye and lung burns.
Sodium hypochlorite alone does not add any benefit to unclogging a drain by itself. It has to come in contact with salt to create a reaction that adds to the unclogging power.
It is not safe to mix other cleaning agents with drain liquid that contains bleach.
Read more:  Best Liquid Drain Cleaner Buying Guide
Weak Alkali Drain Openers
Weak alkali drain openers are commonly used where having a concentrated drain opener in home is considered dangerous. For instance, in a house with an infant, it is not safe to have a strong alkali drain opener.
There are numerous weak alkalis that you can find at home like ammonium hydroxide, potassium permanganate and others. Yet, sodium bicarbonate (baking soda) is the most commonly used one. It has the following properties:
Cheap and easy to find
Easy to use
Deodorizes the drain
Does not leave a harsh odor
No environmental side effects
No risk to children or people with breathing problems
Baking Soda with Vinegar
The most common weak alkali drain opener solution is baking soda with vinegar. Vinegar is a weak acid and baking soda (sodium bicarbonate NaHCO3) is the alkali.
Baking soda is made up of sodium, hydrogen, carbon and oxygen.
Sodium bicarbonate is a very safe alkali.  It's included in many personal products such as toothpaste and will not burn the skin.  However, you should avoid inhaling it or getting it in your eyes.
In some cases, baking powder is used instead of baking soda. Though it sounds similar, baking powder is not the same as that of baking soda. However, the main alkali in both the components is same.
How to Use Baking Soda With Vinegar?
To create your own weak alkaline drain opener solution, throw a cup of baking soda into the drain and add quarter cup of any vinegar (any brand or type of vinegar would do well). Add a liter of boiling water after five minutes.
Read more:  How to Unclog a Drain With Baking Soda and Vinegar
Wrapping Up
This article talks in detail about alkali used in liquid drain openers. The common alkali substances mentioned in this article are sodium hydroxide, sodium bicarbonate and potassium hydroxide. This is not an exclusive list. There are numerous brands of drain openers around the world. Each brand uses different chemical components with varying strength. There can be other alkalis used for unclogging drains. This article just pinpointed the most common ones.