When we hear the words – basement floor drain, the scenario that instantly pop up in our brain is –  a round opening, a few inches wide, having a small grill over it. Truth to be told, most of us don't know more than this. We only think about our basement floor drain when it gets clogged and our basement start smelling like an outhouse.
In case you have ignored this diligent, underappreciated piece of plumbing so far, a backed up floor drain is your chance learn what it does!  Now you have an indoor swimming pool due to your basement floor drain backing up.
In this article, we'll be guiding you through the step-by-step instructions to unclog your basement floor drain.
Reasons for a Basement Floor Drain Backing Up
Before we move on to learning how to unclog a basement floor drain, let's take a look at some of the things that can ruin your sewer system's smooth operation. A lot of things can contribute to your basement floor drain getting clogged. Here, we name only the most common ones that may hamper your drainage system.
Tree roots – A tree root invasion of the sewer system is seen primarily in older homes. Tree roots can be detected from the gurgling sound produced in the waterline.
"Flushable" wipes – Paper towels, thick toilet paper, facial tissue and such products don't break up when flushed.  They can clump together and easily clog up your waste water system.
Fat, oil and grease –  Meat, bacon, edible oil, butter, chocolate and cream – none of these are water soluble.  Globs can easily clump together and block your drain.
Hair – If you don't have drain screens over your basement floor drain, it's easy for hairs to accumulate and cause slow flow or total blockage.
Other objects – Too much soap (sometimes in chunks) can form a big, gooey ball blocking the sewage line when you wash your clothes. Other things like children's toys, condoms, dental floss or mistakenly dropped jewelry can lead to drain clogs.
Tips to Prevent a Basement Floor Drain From Backing Up
Change Your Habits
Use less soap when you wash your clothes
Avoid pouring grease or fat into your drains
Cool all greasy substances first and put them in the trash
Keep a disposable container under the sink and toss your non-water soluble waste there
Finally, get your family members so they follow all these steps
Install a Gate to Keep the Unwanted Reverse Flow Out
Installing a backup gate in your basement floor drain line is a one time investment and you'll definitely be thankful later for making this decision. It will help avoid your own a home's waste backing up.  And it will prevent the foul smelling waste from your neighbors from backing up the main neighborhood sewer line and flooding your home.
Available options include manual gates and automatic ones. As the name suggests, you have to close the manual gate by hand.  Automatic solutions are known as "Backwater Valves" or "Backflow Preventers" and they actively work by themselves. They sense a reverse flow in your mainline, then closes the sewer pipe off entirely by shutting the gate instantly.
Equipment Needed to Unclog a Basement Floor Drain
To complete the unclogging of your basement floor drain, you need to gather several tools.   The following are the most important ones.  Without these you won't be ablet to move ahead with the job.
Step-by-Step Guide to Unclog Your Basement Floor Drain
Step 1: Unscrew the drain cover using a screwdriver. In some cases if the concrete floor or tiles are covering it, you may need to chisel the floor to get to the screws.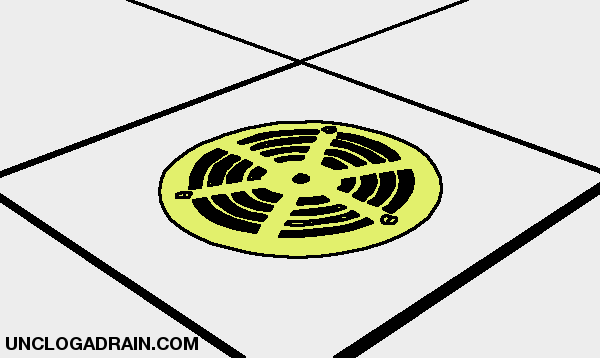 Step 2: Look through the hole inside the drain to see if there's an obvious clog. The straight hole is linked with the P-trap (aka "haz trap") that's filled with water.  This impedes sewer gases from infiltrating your basement.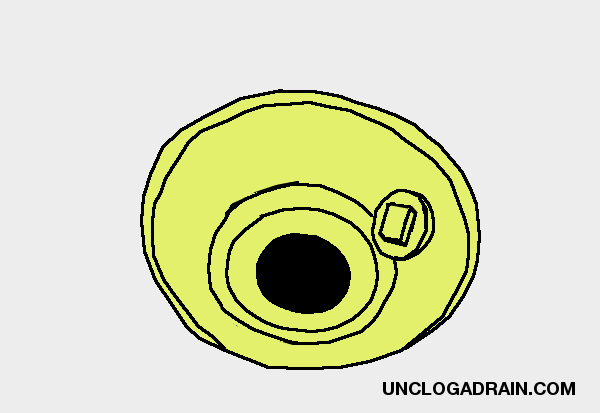 Step 3:  Start sucking the dirt out from the trap using your shop vacuum.  Use a wet-dry shop vac only. Put the vacuum hose in the center hole where the water flows down the drain into the P-trap.  This will pull whatever gunk is stuck in the trap out.  The more heavy gunk you can remove with your shop vac, the easier the job will be.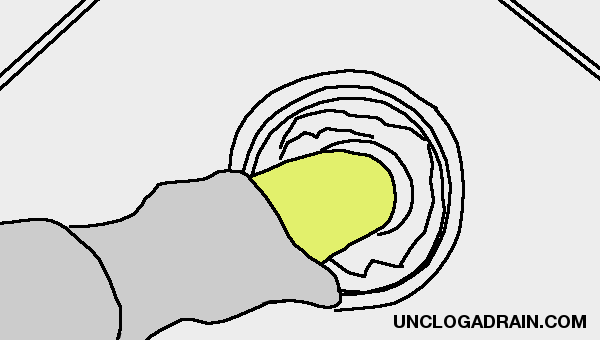 Step 4: To the side of the drain hole you'll find a clean-out plug in a typical all-in-one floor drain (left image below).  Your drain may also have a separate large clean-out plug or cover in the floor about 6-12 inches away (right image below).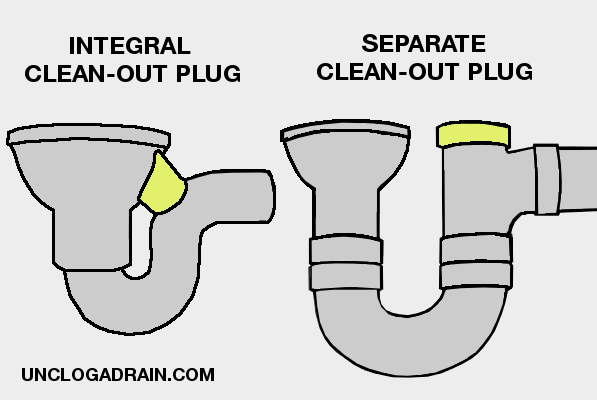 Step 5: Take the clean-out plug or cover off.  It may be hard to remove, so be prepared to use your pipe wrench or maybe a hammer and chisel.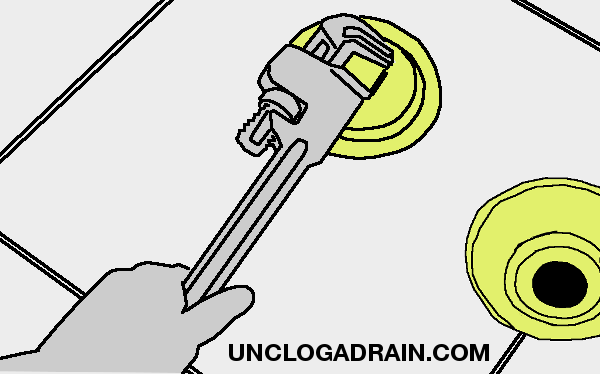 Step 6: Time to bring out the big guns!  Get your plumber's auger or drain snake. Insert the tip into the clean-out pipe.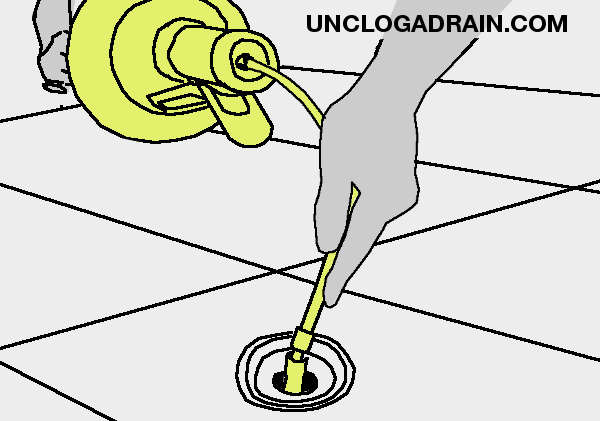 Difference Between a Plumber's Auger and Electric Snake
These two plumber's tools work the same way. The real difference is in power. An electric snake has more power and a longer cable, and can be operated hands-free, but you will find its cost can be high. So the plumber's drum auger is a popular option, whether it's a powered or manual. It may not be hands-free but it comes with a more affordable price tag. If price is not a problem, an electric snake will more efficiencly clean out your clogged basement floor drain.
Step 7: As your auger or snake reaches the clog, give it a few light tugs to make sure the clog is attached then pull it out.  If you run into a blockage that feels hard then it's probably just a curve in the pipe and you need to keep feeding the auger cable in.  Clogs should have some "give" to them and they should resist being pulled out of the drain pipe.
Step 8 : Repeat the process of inserting your plumber's auger or drain snake into the pipe and pulling out chunks of the clog until you are satisfied that the pipe has no obstruction.
Step 9 : Wrap teflon tape around the threads before you put the clean-out plug back in place. The benefit? You won't need to struggle if you ever need to remove the plug again.
Step 10 : After you close the clean-out pipe, fill a bucket of water and pour it into the drain. This will show if the drain is functioning correctly.  In the meantime, the P-trap will also be refilled so gas won't back up into your basement.
That's all! Easy, huh?
Unclog Basement Floor Drain Without Using a Plumbing Snake
But what if you don't have an auger or plumbing snake,? Will your basement floor drain always remain clogged?
No way!
Here's what you need to do to…
1. Clean the Trap
Start the process by turning on the backflow preventer and removing the cap of the trap. Then drive a cold chisel against one of notches in the retaining ring. Next, unlock the backflow ball by rotating the chisel counterclockwise.
Now the real work begins. You need to remove the stubborn, greasy substances residing inside the trap. The best tool we suggest to do this is a wet or dry vacuum.
Once the trap is unclogged, proceed to the backflow preventer's cleanout pipe. First of all, you need to unscrew and then remove the plug with a pipe wrench.
Thrust a strong cable or wire chucked in a drill into the opening. Why did we suggest to chuck it in a drill? It's simple – THE POWER. Turning on the drill, you can extract the congested gunk fairly easily.
2. Natural Remedies
People who aren't comfortable working with power tools will definitely love the way the combination (1:1) of baking soda and vinegar works on clogs. However, you can't completely rely on its effectiveness if the blockage is too obstinate.
3. Chemical Drain Cleaners
Our main advice with using chemical drain cleaners to unclog a drain is to never handle the project by yourself.  We strongly advise you hire professional plumber.  Many of these chemicals are combustible and can cause serious injury to you, your home and your sewer system.
Chemical drain cleaners are highly effective, however.  They will unclog significant blockages in no time. The problem is gradually they will cause long term damage to your pipes.  So chemical solutions shouldn't be used repeatedly.
4. Getting Help from Professional Plumbers and High Tech Tools
If the above mentioned techniques failed to unclog your basement floor drain, or you're not up to doing the task yourself, it's time to hire a professional plumber. True, their services can be costly, but that amount will seem small when compared to the loss/ damage of having your basement floor drain backing up. When your important belongings, photographs or papers stored in your basement get destroyed with nasty drain water, you'll wish you spent the money to get the problem solved quickly.
Spend a some amount on the professionals to get peace of mind. They will not only unclog your basement floor drain within the shortest possible time, but will save you some of the money that you would need to spend on tools to do the unclogging yourself.
Conclusion
It's clear that to unclog a basement floor drain correctly, you need to know the step-by-step process. And, since we have discussed everything in detail, hopefully, you will know what needs to get done. Stay calm, try it yourself first. If the problem is solved, great! Otherwise, a professional plumber is just a phone call away.