Before you switch to using power tools to unclog a drain, you should know that simple household solutions can often do the job at minimal cost.
One simple solution is to use kitchen liquid dish-washing soap. We'll show you in detail how to use liquid dish detergent to unclog your drain here.
When to Use Liquid Dish Detergent to Unclog a Drain?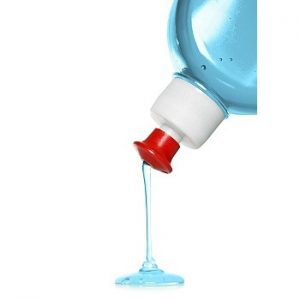 Liquid dish-washing liquid is not always a good drain cleaning solution. But it works really well when the clog is mostly made of grease.
Liquid dish-washing solution has the power to dissolve grease and fat very efficiently. When a clog is primarily made of grease, dish detergent will do a great job of dissolving it and clearing your pipes.
The other clog elements are held together by the grease so when it is dissolved, they will break up and flow down the drain along with the water. The clog simply disappears.
This method is most commonly used for kitchen sink clog removals.
Things to Know Before Using Liquid Dish Detergent to Unclog a Drain
Dish soap is one of the least harmful ways to unclog a drain.  You can use it without worrying about chemicals or damaging your pipes.  But there are still a few things that you need to know before using this method.
If there is no drainage through the clog this method won't work.  With no water flow liquid dish detergent cannot reach the clog and will have no effect. Standing water and the clog backing it up should be removed using a mechanical method like a snake, plunger or twisted wire.
You can combine liquid dish detergent with any mechanical method or with baking soda and vinegar too.
Liquid dish detergent can be used as many times as needed, since it does not cause any corrosive effect on your pipes.  It is also a good preventive measure to regularly pour some liquid dish detergent down the drain to keep your pipes grease-free.
This method should NOT be used with chemical drain cleaners. Liquid detergent should not be mixed with any store-bought chemical drain opening solution.
Mixing two diffferent types of dish-washing liquid is OK.  It won't do any harm.  Mix away.
It is better to use hot or boiling water, rather than cold water, to flush the drain while using this method. Hot water has better clog removal ability than cool water.
Unclogging a Drain With Liquid Dish Detergent
There are two ways to use liquid dish detergent to remove a clog in your drain. For both  methods, the ingredients needed are:
Liquid dish-washing detergent
Hot water
BTW – We also reviewed the best drain cleaners in the market in case you'd like to check those out.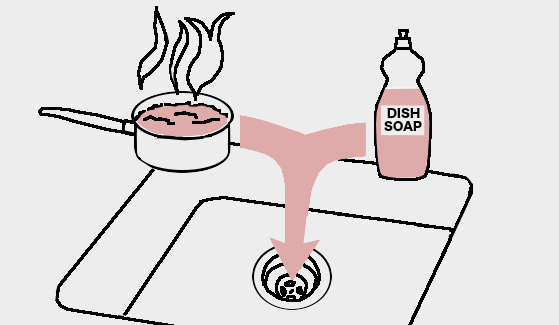 First Method:
Boil a small pot of water and pour it into the drain. This will break down and remove the clog to some extent.
Remove all standing water with a ladle or pot.
If you can see or reach the clog, try to remove a bit of it so that there is a little water drainage.  A drain snake or twisted wire hangar is sufficient.
Pour a cup of liquid detergent into the drain and wait for a few minutes.
While you wait, boil another pot of water again.
Pour the boiling water directly into the drain.
The water should drain much faster than before showing that the clog is removed.
If not, repeat the process again as many times as needed to get a clean flow.
Second Method:
This method is similar to the first one. It requires the same ingredients.
Remove standing water with a ladle or pot and use a drain snake or twisted wire hangar to  remove some of the clog as mentioned previously.
Boil a pot of water mixed with dish-washing liquid. The brand and type of liquid makes no difference. A cheap no name brand works just fine.
Once the water is boiling and there is no lump of detergent in the pot, remove the boiling water from the burner and pour it down the drain as fast as possible. Make sure not the splash the liquid, all over the sink.
Repeat.  Boil another pot of water-plus-detergent, pour it down the drain, and wait for the solution to do its work.
Flush the drain with a lot of hot water.
Repeat it as many times as needed until the drain flows nicely.
Alternative Method:
You can whip up the detergent in a small amount of warm water until it's thick and frothy.  Then quickly pour it down the drain. Then wait for 5-10 minutes.  Repeat until the clog starts moving.  Then pour hot water down the drain.
The frothy bubbles will get into the nooks and crannies of the clog, and between the clog and the drain pipe wall.  The thick solution will stick to the clog and work on it longer.  The bubble action will do a lot of the work for you.
Use can use any method or even combine both and try is as many times as needed.
These approaches are simple, cost effective and also have no effect on the environment, your pipes or your health.